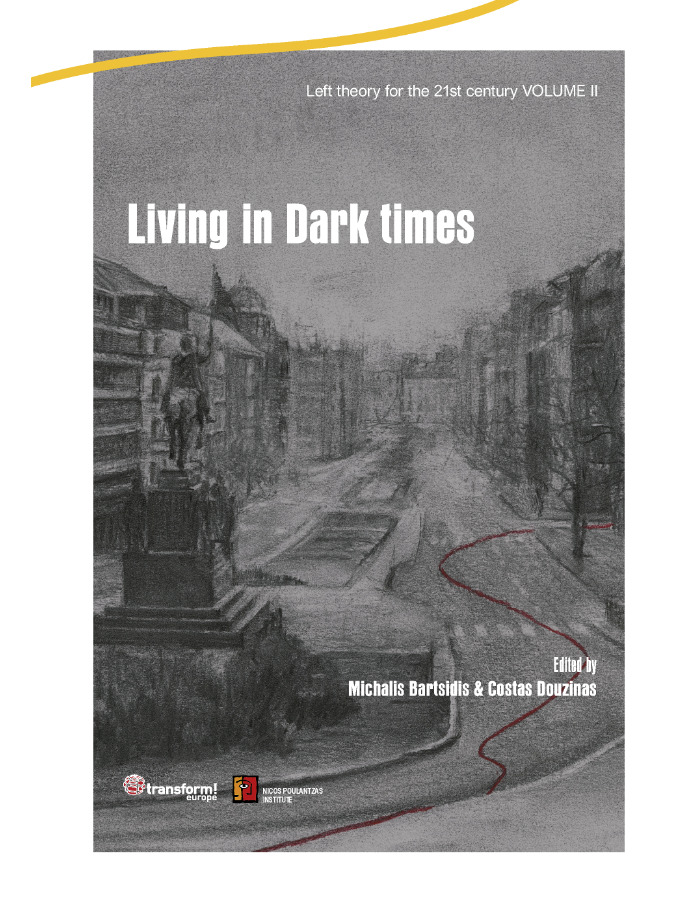 Living in Dark times.
Transform! Europe& Nicos Poulantzas Institute.
Left theory for the 21st century, VOLUME ΙI
Editors: Michalis Bartsidis & Costas Douzinas
Jean-Luc Nancy, Athena Athanasiou, Walter Baier, Michalis Bartsidis, Costas Douzinas, Adam Gearey, Paul Guillibert, Vicky Iakovou, Konstantinos Kavoulakos,  Alexandros Kioupkolis, Gerasimos Kouzelis, Todd McGowan, Dimitris Parsanoglou, Yannis Stavrakakis, Vassilis Tsianos, Tania Vosniadou
Cover: Maratos Andreas, The sound of steps III, charcoal and pastels on paper, 2005
This volume reflects on the dark side of our times, the negativity radical political trategy must address, manage and transform. Negativity appears either as a dialectical moment of passage or as the return of evil in many guises: biopolitical governance, the authoritarian turn of democracies, the economics of inequality, the pandemic, the lockdown and the state of exception, the politics of fear and the multiple violations of liberties and rights. All these combine in neo-conservatism, neoliberalism and far- right populism and create a major challenge for democracy and the left . The fear of death is literally pandemic. Individuals, classes and masses live in a state of constant negativity. This constant living with death makes the world exclude the imagination, avoid thinking worthy of its name, let alone thinking another better life and society. This volume carries out a reflection on the contemporary political challenges for institutions, social movements and strategic practices. It hopes to contribute to an effective resistance and rejection of the racist, hierarchical, authoritarian ideologies and practices central in far-right populism. At the same time, it contributes to the creation of a large popular democratic and emancipatory front in Europe and beyond.